Do you want to become a Doctor?
We are one of the Clinical Education Campus' for The University of Manchester's medical school.  We provide excellent clinical placements across two Hospital sites for to up to 300 medical students per academic year.  The medical students are based with us for their 3 clinical years, as part of the 5 year MB ChB Degree course.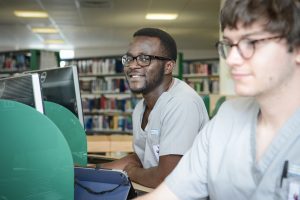 We have been a Teaching Hospital since 2004 and have excellent teaching resources available to you, providing you with all the information you need to develop your own learning style and build on your clinical knowledge through practical, hands-on teaching in a safe environment, working towards graduation in Year 5.
Our learning resources include Consultants and Specialist Teams within the clinical areas based across both Royal Preston and Chorley Hospital sites; Clinical Skills labs where you will receive a wide range of skills training designed and created by the team through e-learning, on line tutorials and hands-on practical sessions using simulated manikins; purpose-built Simulation and Resuscitation training rooms, with Hi Fidelity manikins; Health Academy Education Centres, providing excellent learning spaces; extensive libraries which provide quiet spaces for the days when you really want to focus on your written studies and, for when you want to relax, student common rooms where you can have some down time in between your busy schedule.  Basically, we have everything you need to ensure you meet the requirements of the GMC's Outcome for Graduates and become a successful Doctor.
We also provide placements for students based at Lancaster University medical school. These placements are specifically for Neurology students in Year 3 when students will be able to take patient histories and learn about Neurology first hand with our excellent Consultant Lead.  In Year 5 we provide 7 week student choice placements, offered to students interested in developing their knowledge and understanding around a specific area of medicine.
Please note that this video was filmed before the outbreak of COVID-19, and precautions have now been taken to keep out staff and students safe within The Health Academy, and the Trust as a whole.