Do you want to be an Allied Health Professional?
What is an AHP?
AHPs work with all age groups and within all specialities.  Their particular skills and expertise can be the most significant factor in helping people to recover movement or mobility; overcome visual problems; improve nutritional status; develop communication skills and restore confidence in everyday living skills.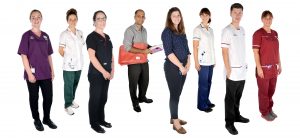 AHPs work in partnership with health and social care colleagues across primary, secondary and social care, as well as in the independent and voluntary sectors.
Allied health professionals have to be registered with the Health Care and Professions Council (HCPC). The HCPC is an independent, UK wide regulatory body responsible for protecting the public by setting and maintaining standards of professional training, performance and conduct of the healthcare professions it regulates.
What do AHPs do?
Here are some of the things Allied Health Professionals do:
assess, diagnose, treat, discharge and/or refer patients to other services

teach, train and mentor other clinicians, students, patients and carers

develop extended clinical and practitioner roles which cross professional and organisational boundaries

liaise with other clinicians and provide specialist advice

play a central role in the promotion of health and wellbeing

take an active role in strategic planning and policy development for local organisations and services

undertake research and development
In this section you can find more information on the AHPs that are represented within Lancashire Teaching Hospitals.  All provide opportunities for students to gain the practical skills required to perform in their role linked with the universities which complete the training for these professions.  This information will give you an insight into each profession and the experience of staff and students within this organisation.