Thank you for choosing Lancashire Teaching Hospitals NHS Foundation Trust to apply for a work experience placement. We are delighted that you are expressing an interest in completing work experience at our Trust however, due to the uncertainty due to Covid-19 and to protect yourselves as well as our staff during the current climate, we are unable to allocate any placements for those who have previously applied until further notice and we are also not accepting any new applications for Work Experience.
If you have already submitted an application in the past, please rest assured this has not been discarded and we will be in contact once it is safe and we are able to support your request.
Please check this website for regular updates and changes to when we will be accepting applications in the future. We thank you for your patience and hope you stay safe and well.
Lancashire Teaching Hospitals are successfully placing students in clinical and non-clinical work experience placements throughout the year in a variety of different departments.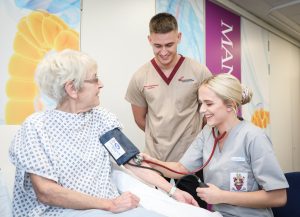 Work experience offers all the opportunity to individuals of all ages to get a first-hand insight into different clinical and non-clinical areas across our two hospitals. In 2018-2019, we provided 349 students with work experience placements & then in 2019-2020 we placed an outstanding 424 students in work experience placements!
We offer experience opportunities in numerous areas such as medical and surgical wards, ophthalmology, dietetics, medical engineering, administration and so many more, a full list of placement areas can be found on the application form.
These are available all year round and length of placement will depend on department availability and the demand for each area during your requested dates.
Other areas we offer experience in such as maternity, theatres, physiotherapy and pathology are based on specific programme dates, if you are interested in work experience in these areas you may not get to request the dates this is available but offered a place on a specific programme.
We are also in the process of developing a unique programme for our under 16 years students wanting to complete work experience. At the present time, students under 16 are unable to attend clinical placements. With this in mind we are developing a programme that allows students to learn more about our clinical and non-clinical areas in a fun and interactive way, this will be run in collaboration with secondary schools. More information on this programme will be published in the future.
We are committed to providing work experience placement opportunities to local students who aspire to have a career within the NHS.
For futher information please email workexperience@lthtr.nhs.uk