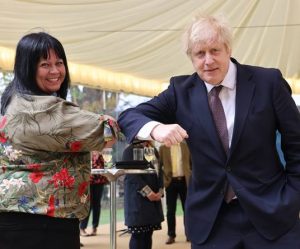 A Lancashire Teaching Hospitals employee has been recognised by Prime Minister, Boris Johnson, for her outstanding efforts in the Covid-19 pandemic response.
Claire Woods, who is operational lead for Covid-19 testing at the Trust, was invited to a special reception at 10 Downing Street which was held to recognise a small number of NHS staff members from across the UK.
Claire was nominated by colleagues for her outstanding contributions in leading the PCR swabbing programme and more recently the roll-out of antigen lateral flow and saliva testing amongst staff members.
What makes Claire's achievements more impressive is that prior to the pandemic Claire was working as a Clinical Educator at the Trust and was initially seconded in March 2020 to help support the swabbing team.
Claire quickly took a lead role and has since helped to embed all programmes across the Trust, responding to the ever-changing landscape and delivering national protocol.
Talking about her experience, Claire said: "I'm extremely humbled and grateful to have been nominated to attend this event and for our Trust's efforts to be recognised during the pandemic.
"It's all down to great teamwork – the 'Testing POD' teams at RPH and CDH, the Testing Strategy Group and the Microbiology/Pathology teams have worked extremely hard over the last 16 months and I'd like to thank everyone for their continued hard work and support.
"It was lovely to be able to attend the event and meet all the other NHS colleagues from across the UK and listen to their individual stories and achievements.
"This was an amazing opportunity, a once in a lifetime experience which will certainly add to the story I tell my grandchildren of the Covid-19 pandemic we have all endured!"
Claire was able to share her story with the Prime Minister and highlight the incredible efforts that Trust staff members have made since March 2020.
Karen Swindley, Workforce, Strategy and Education Director, said: "It is fantastic that a colleague at the Trust has been recognised by the Prime Minister for their outstanding efforts during the pandemic.
"Like many other colleagues across the Trust, Claire has demonstrated exceptional resilience and determination to help the Trust in our efforts against Covid-19.
"Claire has been fundamental in ensuring that Covid testing has been embedded across the Trust, developing and leading the service and her work has been widely recognised across the organisation."