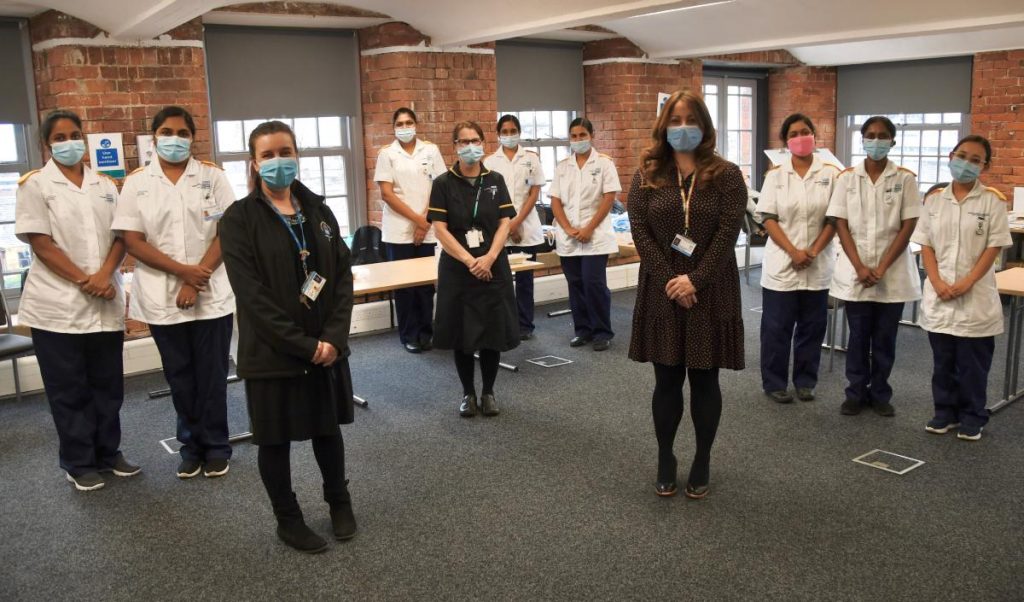 Training for international nurses has relocated to a temporary new home in the heart of Preston thanks to a new partnership between Lancashire Teaching Hospitals NHS Foundation Trust and the city's Cotton Court Business Centre.
Lancashire Teaching Hospitals is part of the Global Learners Programme, which prepares nurses from around the world to qualify to work in the UK.
The Trust normally runs the programme at Royal Preston Hospital, but needed to relocate after part of the hospital's Education Centre was allocated for use as a Covid vaccination hub. Cotton Court Business Centre in Church Street, Preston, came forward to offer replacement training space after the Trust asked for recommendations via the Shout Network, a local business group.
Robert Binns, Managing Director of Cotton Court Business Centre, said: "The Shout Network reached out to us and said the NHS were looking for somewhere to run the international nurses programme from, and because of Covid restrictions, they were looking for somewhere that had enough space, was airy and was Covid secure.
"Everybody wants to do their bit to support the NHS and I think as a national effort everybody has pulled together because it's the only way we're going to get out of this.
"To know that in some small way you've helped that is fantastic."
A key requirement for Lancashire Teaching Hospitals was finding a new venue with enough space to deliver training while maintaining suitable social distancing.
Lancashire Teaching Hospitals NHS Trust Nursing, Midwifery and Allied Health Professions Director, Sarah Cullen said: "Some of the challenges in delivering a programme like this during Covid is that we need to maintain safety for our new colleagues joining us from other countries.
"That's meant some of the environments in which we would traditionally have provided education have had to change, and we've been really fortunate with the local partnership arrangements with Cotton Court that we've been able to relocate our training into Preston, closer to our international nurses' accommodation and we've been able to deliver the training we've wanted to while supporting a local business, which we're really pleased to be able to do.
"Cotton Court facilities are absolutely beautiful and the students are clearly very comfortable here."
The Global Learners Programme supports overseas nurses to complete training in UK working practices and prepare for a practical exam in order to register with the Nursing and Midwifery Council to work as a registered nurse in the UK.
By 2022, the programme will have brought nearly 350 new nurses, from a variety of countries, the most common being the Indian state of Kerala to Lancashire Teaching Hospitals, aiming to reduce nursing vacancies to zero at its hospitals.
Student Simi Mary Mathew said: "Coming here has been a good experience. In our country the nursing job is not well-recognised, but here the scenario is very different especially in the NHS. The nurses are highly respected here.
"We are so comfortable in this building. We can learn here properly and the trainers are helping us really well."
Photo: Pictured in the Cotton Court training facility are (from left) Beena Johnny John, Anu Podipara, Head of Professional Education Development Kate Harrison, Greeshma Poulose, International Nurse Tutor Pat McConnell, Anu Kurian, Giftymol Philip, Nursing, Midwifery and Allied Health Professions Director Sarah Cullen, Simi Mary Mathew, Sincy Paul and Sangeeta Rai.