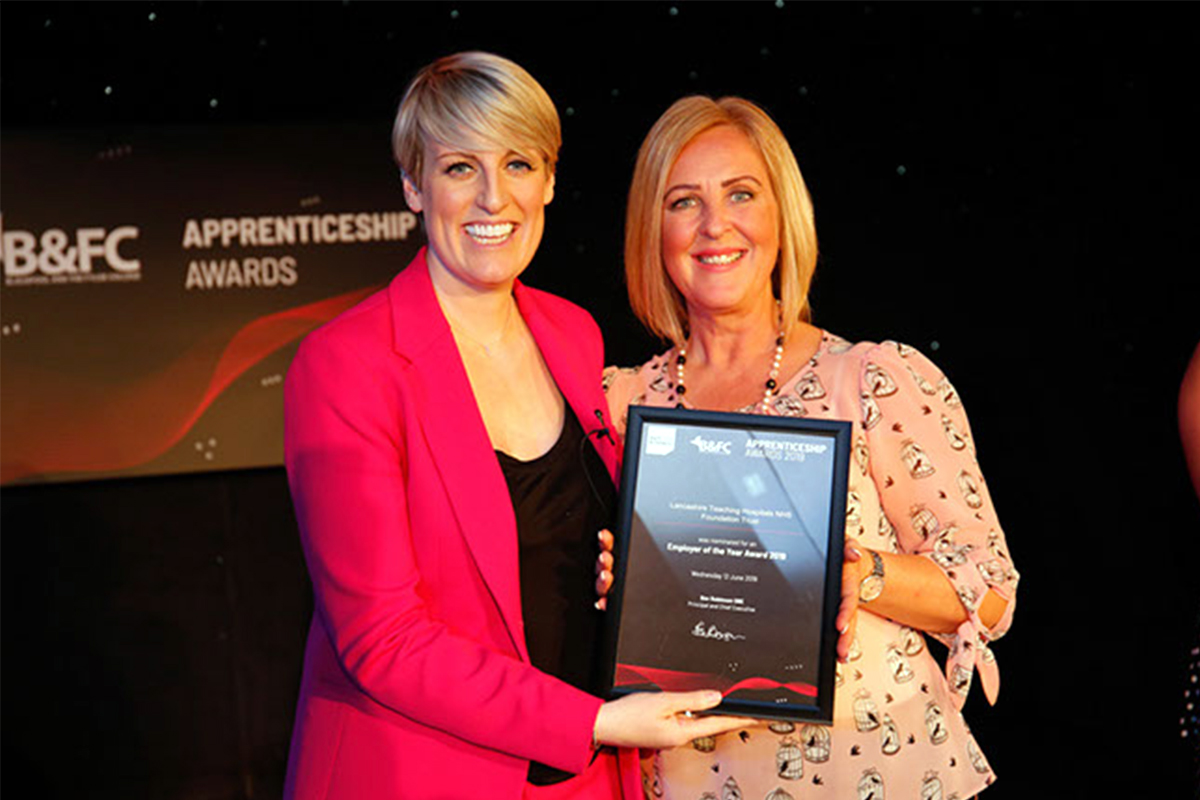 Lancashire Teaching Hospitals NHS Foundation Trust has been recognised as the Apprenticeship Employer of the Year in a regional awards ceremony.
Lancashire Teaching Hospitals were awarded with the Apprenticeship Employer of the Year Award at an awards ceremony held by the Blackpool and The Fylde College. This event recognised the achievements of apprentices and their employers all across the country.
The hospitals were recognised for the hard work and support that they provide to over 100 apprentices on a programme with the college who are based across both Royal Preston Hospital and Chorley District Hospital.
Jacqueline Higham, Widening Participation Manager at Lancashire Teaching Hospitals, said: "Our working partnership with Blackpool and The Fylde College has gone from strength-to-strength over the last two years, providing apprenticeship opportunities to both existing staff and new apprentices."
"The award celebrates and recognises our commitment to apprenticeship training and demonstrates the extraordinary efforts made by staff to ensure apprentices receive a first class experience."
Lancashire Teaching Hospitals currently employs around 300 apprentices across the organisation. Apprenticeships at the hospitals work in an array of departments from medical engineering to accountancy to health care support. Approximately 90% of apprentices are retained at the end of their training and many have progressed to more senior roles within the organisation, which is a great achievement.
Karen Partington, Chief Executive at Lancashire Teaching Hospitals said: "Our apprentices are extremely important to us and they really do make such a difference to our organisation. We are delighted to have received this award which is testament to the opportunities that we are able to provide to our apprentices and the support that they receive to grow and develop with us."
Claire Lee, Business Development Director at Blackpool and The Fylde College, said: "The partnership between Blackpool and The Fylde College and Lancashire Teaching Hospitals NHS Foundation Trust has now been in place for more than a year and is proving to be very successful. The close professional relationship that we enjoy is leading to an increase in opportunities for students to gain vital experience of working in a healthcare environment through work-based placements that support the college curriculum. Working together in this way is helping to ensure that the NHS in Lancashire will continue to have high-quality, committed and well-trained health and social care professionals joining its ranks to deliver the very high standards of care that we all expect from this much-loved national institution."