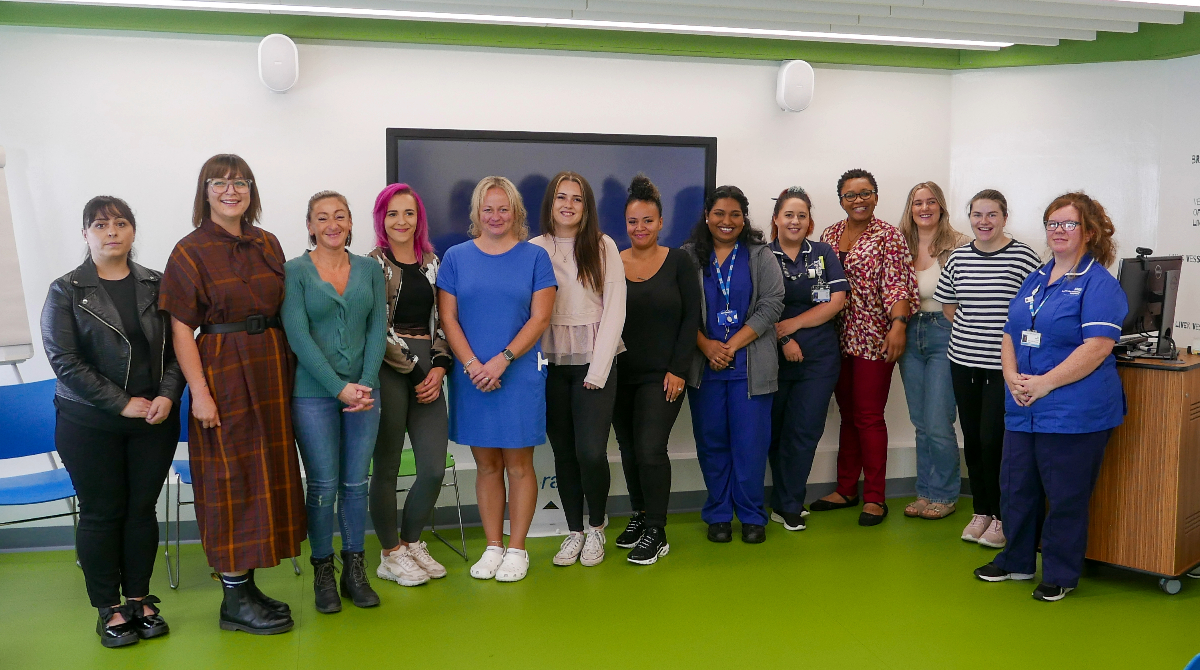 Last week, Lancashire Teaching Hospitals celebrated the graduation of our two newest Apprenticeship cohorts.
The incredible group comprised of twenty-one new Level 3 Learning Mentors and eleven Level 3 Healthcare Support Workers.
Between them, they achieved a staggering twenty-two distinctions, with three of the thirty-three graduates achieving 100% in their End Point Assessments. These results come after two individuals in April's graduating cohort celebrated the country's first ever 100% End Point Assessments, maintaining the departments incredibly high standards!
Since the apprenticeships began in October 2018 LTH's Apprenticeship Team have supported two hundred and five colleagues in becoming officially accredited Learning Mentors, along with one hundred and forty-three Qualified Senior Healthcare Support Workers.
The impact of this is profound, with the influence of the apprenticeships being described as having 'cascade affect' throughout the workforce. Graduates are not only bridging the gap of the recruitment deficit of Band 3s but are also progressing onto further studies and/or promotions, providing enhanced career paths that may not have otherwise been achievable.
Whilst also enabling their fellow colleagues to benefit from exceptional high-quality mentoring, with LTH's achievement rates being the highest in the country.
In the 2021/22 the Learner Mentor Apprenticeship had an 81.9% pass rate, compared to the national average of 43.8%, with the Senior Healthcare Support Worker carrying equally strong results, with LTH boasting a staggering achievement rate of 82.1%, compared to the national average of 52.9%
These results are reflected in the Trust's recent Ofsted result, awarding an overall 'good' with 'outstanding' aspects during their visit in August 2022. Thus, making LTH one of only 13 NHS Trusts in the country (and the only Trust in Lancashire) to carry a good or outstanding grade.
Graduates of the courses are proof of how deserving the team are of the results, with them unanimously agreeing that the apprenticeships leave them feeling more confident and competent.
Speaking at the ceremony, one of the Healthcare Support Worker graduates, Alex Smith, said:  "I feel I am a much better care practitioner. Throughout the course we learnt to develop our existing skills. It has massively increased my confidence in my own abilities."
Alex's progress has also been recognised by senior members of staff, with her matron adding that the difference in her performance since undertaking the apprenticeship has been 'poles apart' and she could see how much she had developed in the short year she had undertaken the course.
Alex added. "I am now mentoring junior members of staff and doing this apprenticeship has enabled me to provide accurate and important information to them."
Speaking about the recent Cohort, Apprenticeship Operational Manager, Sophie Foster said: "I would like to congratulate our recent cohorts of apprentices who have achieved some incredible results at end-point assessment. Their dedication, effort and proactive approach to learning has not gone unnoticed and has truly paid off. It was fantastic to see so many Ward Managers, Sisters and Educators attend the celebration event but also to hear from apprentices about how well supported they have been within their wards and departments.
It was also lovely to hear apprentices speak about their learning journey and how they are using their learning to progress onto further study or to new roles internally. Many Senior Healthcare Support Worker apprentices have already enrolled onto the Trainee Nurse Associate or the Operating Department Practitioner apprenticeships and others enrolled onto Nursing programmes with local universities."
Are you interested in joining the next cohort of Learning Mentors or Healthcare Support Workers? Contact the Apprenticeship Team at apprenticeships@lthtr.nhs.uk for further information.