Every year, students studying medicine at the University of Manchester take part in student led teaching awards which sees them nominate teaching staff at their hospitals of placement for a variety of awards.
Students nominate their teachers for accolades including 'Lecturer of the Year' and 'Most Supportive Staff Member' amongst others.
This year, competing with 106 other nominees across Lancashire Teaching Hospitals, Salford Royal NHS Foundation Trust and Manchester University NHS Foundation Trust (Oxford Road / Wythenshawe), our very own Mr Mohamed Banihani was granted the award for 'Most Appreciated Teacher', after having been shortlisted by programme representatives.
As one of our Undergraduate Medical Education educators, Mr Banihani supports our students in preparing for their futures as Doctors, specialising in Vascular Surgical Training.
On receiving the award, Mr Banihani, said: "I have been working as a consultant vascular surgeon at LTHTR since Jan 2015.
"I love vascular surgery and working with an enthusiastic team.
"I enjoy teaching and try always to keep things simple.
"I am both proud and humbled to receive such an appreciation that undoubtedly is equally deserved by many other colleagues.
"I look forward to working with medical students for many years to come with the same passion and compassion."
Receiving this award reflects the hard work and dedication put in by Mr Banihani, and really shows why Lancashire Teaching Hospitals is such a great place to study and work.
Associate Dean, Mr Keiarash Jovestani, said: "To receive this award, during a year where there has been so many clinical pressures, is truly exceptional.
"Mr Banihani always takes the time to integrate the undergraduate medical students into his team and immerses them in clinical opportunities within Vascular Surgery.
"His friendly, approachable and knowledgeable teaching style is always well received.
"He has always found the time to develop the future generation of doctors, even in the midst of a pandemic.
"It is a great credit to his teaching and our Trust that he has received this award as voted for by the students"
We are incredibly proud of Mr Banihani, and are so grateful to have him as a member of staff.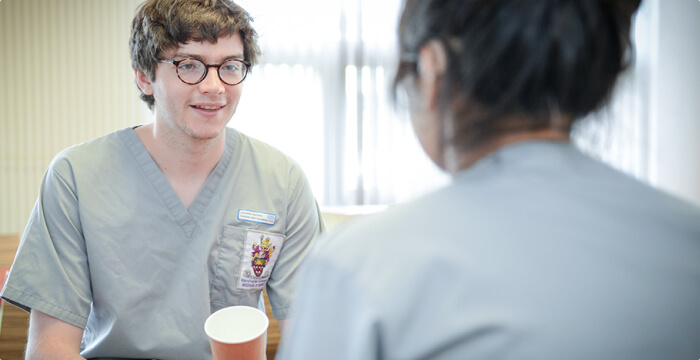 Find out more about Undergraduate Medical Education at The Health Academy.