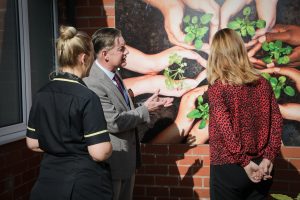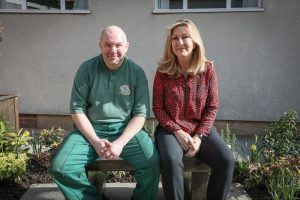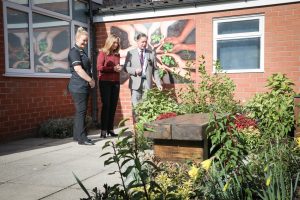 Two years on from the opening of our LIFE Centre facility, we have teamed up with Midstream to give our outside space a well needed makeover!
Midstream, based in Skelmersdale, provides employment opportunities for young people and adults with special needs.
They promote participation, education & training, quality of life, integrity and cooperation, all in order to enhance the wellbeing and future career prospects of their learners.
Having contacted the LIFE Centre, Midstream met with our tutors to discuss enrolment onto our Work Familiarisation Programme, which provides the opportunity to explore various job opportunities within LTHTr.
After touring our award winning facility, talk turned to the transformation of the garden, and how Midstream could help.
The team began work on designs for our garden, the space was cleared, and work began in January 2020.
The Midstream team provided us with a stunning garden filled with raised flower beds, a picnic bench and a mural.
I would like to extend my thanks on behalf of Lancashire Teaching Hospitals to the Midstream students who have transformed this beautiful garden area at LIFE Centre.
Our outdoor area now complements this unique and fantastic facility that will provide the Lancashire community with information, practice and support to enable them to achieve a career within the NHS.
This demonstrates how widening participation schemes, such as the work familiarisation programme, provides access to opportunities for non-traditional learners by raising awareness of education and its benefits as well as raising aspirations, enabling achievement and providing opportunities.
Jackie Higham, Head of Widening Participation and Apprenticeships
We would like to thank them for the amazing work done here, and for transforming our outdoor space into somewhere all of our visitors can enjoy.