Pharmacists make a difference to the lives of their patients through an expert knowledge of medicines and health.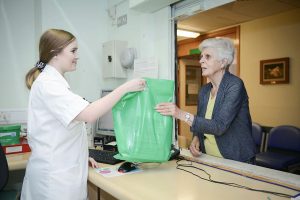 As a pharmacist, you'll combine a love of science with a desire to improve lives. You'll be rewarded with a stimulating career across a range of settings and industries.
Pharmacists work directly with patients and as part of the bigger healthcare team. Increasing numbers of pharmacists can prescribe medicines to patients to help them manage their conditions. They also have a role in preventing people getting sick by supporting people to live healthy lifestyles.
You'll work alongside pharmacy technicians and pharmacy support staff, such as pharmacy assistants to deliver the pharmacy service. Each person is a high valued member of the pharmacy team.
As a pharmacist, your role is to:
make sure that medicines are used safely
work with patients to understand how to take their medicines and get the most out of them
take a history, examine, identify and provide advice to patients on minor ailments such as coughs and colds, signposting where necessary
work alongside other healthcare professionals, including doctors and nurses, so patients are prescribed the most appropriate medicines for them
provide advice on health and lifestyle such as stop smoking
manage long term conditions such as high blood pressure
if they're qualified to, prescribe medications to patients to help manage their condition
research new drug therapies
educate and train other pharmacists and other members of the healthcare team
lead a team of pharmacy staff to provide services
manage medicines budgets
Within the next few years, all pharmacists will be qualified to prescribe when they complete their training.