You'll be a source of hope and care for those diagnosed with cancer. Using radiotherapy, you'll collaborate with other healthcare professionals to create individual treatment plans that blend technical expertise with emotional support for your patients.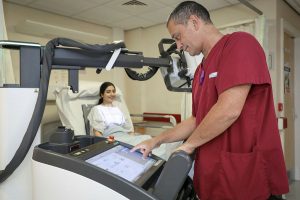 As a Therapeutic Radiographer, you'll be part of a team helping people who are dealing with cancer. Based in a hospital, you'll work with patients and colleagues to design treatment programmes and support patients until their treatment ends. From taking an initial X-ray, to using a CT scanner or a linear accelerator, you'll use some of the most complex and advanced technology to treat tumours. Therapeutic Radiographers are also central to a wider multidisciplinary team, working and consulting with colleagues across various departments.
You will need to be interested in new technologies, be safety-conscious and have excellent observational skills. But this isn't just a role for the technologically-minded. Along with planning and delivering treatments, you'll offer emotional support to patients and their carers and will need to have an easy-going manner to reassure patients who are nervous about their treatment.
You may also choose to specialise in treating certain cancers, work with children or with new, emerging technologies such as proton beam therapy. Research, teaching or management are other career pathways.