Dietetics is a degree-based profession. As registered health care professionals, we use the most recent scientific evidence to help diagnose and treat nutrition related problems.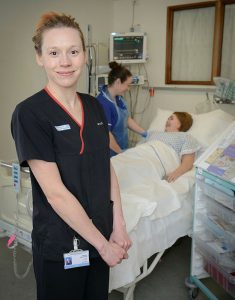 Dietitians help people to learn about nutrition and apply it to the treatment of their condition. We have training in physiology, biochemistry, pharmacology, behaviour change, communication skills and social sciences. This knowledge is applied to provide individualised dietary advice.
At Lancashire Teaching Hospitals, we are a team of over 30 registered HCPC dietitians, dietetic support workers and clerical staff primarily working across two sites: Royal Preston Hospital and Chorley District Hospital. We see inpatients and outpatients both individually and in group settings covering a range of areas to include:
Medical – stroke, respiratory, neurology, cardiology, gastroenterology, care of the elderly, endocrine.
Surgical – colorectal, gynaecology, major trauma, orthopaedics, critical care, vascular, neurosurgery, oncology (head and neck, upper GI), burns and plastics, and ear, nose and throat (ENT).
Paediatrics – diabetes, cystic fibrosis, epilepsy / ketogenic diet, food allergy and intolerances, weight management, faltering growth, eating difficulties, coeliac disease, gastrointestinal problem
Renal – predialysis, haemodialysis, home haemodialysis, peritoneal dialysis, acute renal failure and nephrotic syndrome.
We are a friendly and caring team who are committed to providing excellent care with compassion.
I returned to practise and specialised as a renal dietitian in 2018. I have learned so much in Renal so far and I have particularly enjoyed covering peritoneal dialysis clinic and the haemodialysis units. I enjoy working alongside consultants and being part of the MDT to provide an excellent service.
Karen Hawthorne