Technology enabled student placement opportunities for our Allied Health Professional learners
In line with the Health Education England clinical placement expansion agenda, identification and scoping of potential placement expansion within the Allied Health Profession (AHP) teams has been undertaken at Lancashire Teaching Hospital Trust.
The opportunity to create remote placement opportunities is apparent within the profession within both in-patient and out-patient speciality clinical areas (Technology enabled care service placements – TECS).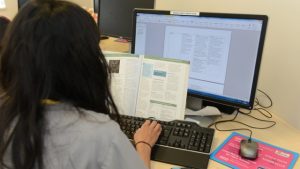 The application of this would be that the AHP student would be able to complete their placement remotely from Lancashire Teaching Hospital Trust and access the therapeutic interventions utilising a combination of remote access to video consultations through Attend Anywhere, dialling into telephone appointments and visually attending to face to face appointments through the use of a access to an IPad. This mixed approach to technology would be required due to the fluid nature of the therapist's daily work. Hololens 2 augmented reality headsets (worn by the therapist to remotely link with the student external to the organisation) are also a future consideration to support virtually simulated learning opportunities within the work environment.
In addition to TECS placement opportunities we are further developing our use of virtual and augmented reality to support student learning in the workplace and consolidate the skills students are learning through more transitional practice.